Digital Signage Software Market revenue to hit USD 42 Billion by 2036, says Research Nester
Prominent digital signage software market players include LG DISPLAY CO., LTD, Broadsign International, Inc., Scala Omnivex Corporation, Mvix, Inc., Rise Vision, Inc., Barco., Siemens, Daktronics, and BrightSign LLC.
New York, Oct. 24, 2023 (GLOBE NEWSWIRE) — The global digital signage software market size is predicted to grow at a CAGR of over ~13.2% from 2024 to 2036. The market is projected to garner a revenue of USD 42 billion by the end of 2036, up from a revenue of ~USD 10 billion in the year 2023.Interactive displays are becoming increasingly popular in today's world, with more and more businesses adopting this technology to engage customers in new and exciting ways. Studies show that interactive displays can boost sales by up to 30[R1] %, making them a valuable investment for any business looking to stay ahead of the competition.
Request Free Sample Copy of this Report @ https://www.researchnester.com/sample-request-4822
As more businesses invest in interactive displays, the need for Digital Signage Software to help manage those displays will also increase. This will drive demand for Digital Signage Software, making it a valuable investment for businesses.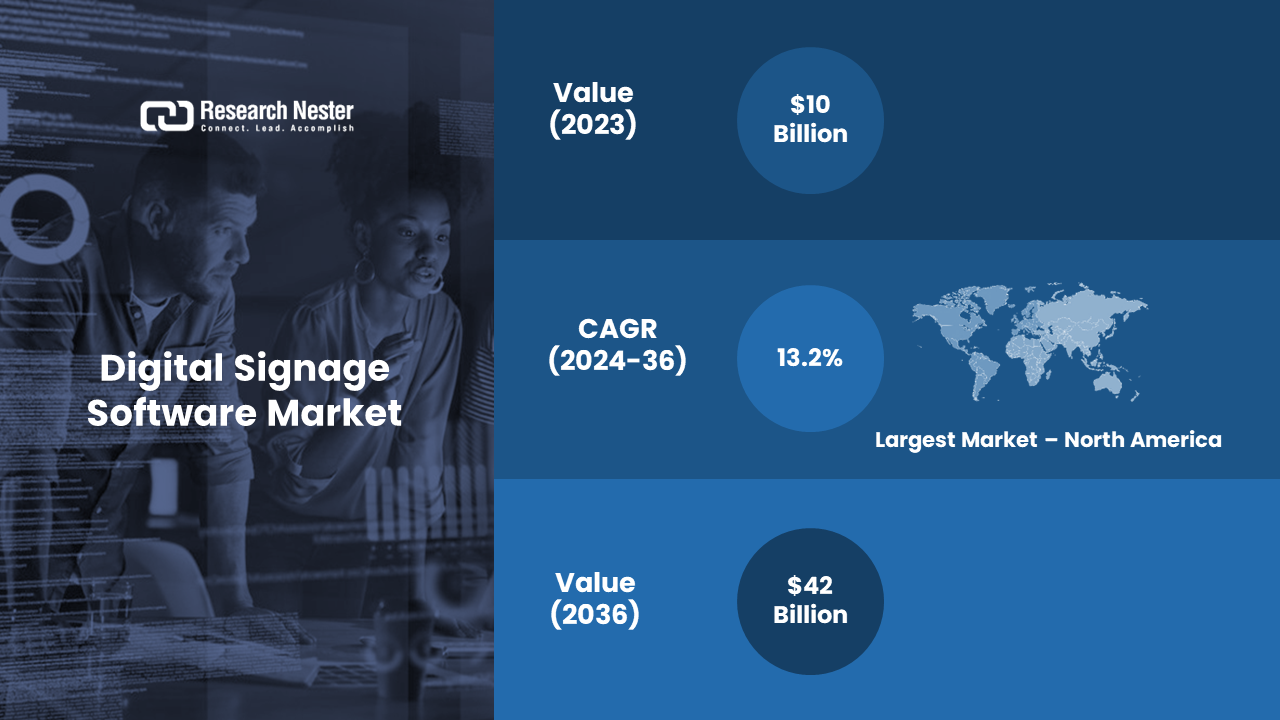 Advancements in Display Technologies to Boost Market Growth
Over the past few years, we have seen significant advancements in display technologies that have revolutionized the digital signage industry. From OLED to LED[R2] , these new technologies offer a range of benefits such as improved image quality, higher resolution, and energy efficiency. One of the most exciting developments in display technology is the emergence of micro-LED displays[R3] . These displays use tiny LEDs that are only a few micrometers in size, allowing for extremely high pixel densities and brightness levels. This technology has the potential to revolutionize the way we think about digital signage, enabling us to create larger, brighter, and more immersive displays than ever before.
Digital Signage Software Market: Regional Overview
The market is segmented into five major regions: North America, Europe, Asia Pacific, Latin America, and the Middle East and Africa. 
Introduction Of New Trends And Technologies to Drive the Growth in the North America Region
The digital signage software market in the North America region is estimated to garner the largest revenue by the end of 2036. Digital signage technology is becoming more and more popular as businesses look for ways to reach their customers and increase sales. With the ability to display targeted ads, update content in real time, and collect data on customer behavior, digital signage is an invaluable tool for retailers. In a survey conducted in 2022 among consumers, in the United States, a significant majority of 77[R4] % expressed their acceptance or partial acceptance of advertisers targeting them based on their media preferences. In addition, the introduction of new trends and technologies has allowed retailers in the region to better meet customer needs and provide better customer experiences. As a result, customers are increasingly turning to retailers for their products and services.
Make an Inquiry Before Buying this Report @ https://www.researchnester.com/inquiries-before-buying-4822
Adoption Of Digital Signage Solutions By Automotive Leaders to Drive Growth in the European Region
The Europe digital signage software market is estimated to garner the largest revenue by the end of 2036. The adoption of digital signage solutions by automotive leaders in the region is due to its ability to provide real-time information to customers, improve customer engagement, and increase brand recognition. Additionally, the rising trend of automation in the automotive industry is expected to fuel the growth of the market over the forecast period. The European Automobile Manufacturers Association (ACEA[R5] ) has created a list of guidelines and regulations to facilitate the implementation of automated driving, in the European Union aligning with their goal of improving road transportation by making it smarter and more convenient. Additionally, the growing trend of using digital platforms for advertising and the increasing demand for energy-efficient technology in the region is also driving market growth.
Digital Signage Software Segmentation by Application
Healthcare
Education
Banking
Entertainment
Retail
Corporate
The retail segment is anticipated to hold the largest revenue by the end of 2036. As technology advances, digital ads become increasingly interactive and engaging, allowing retailers to target their potential customers better. Additionally, with the rise of e-commerce, retailers are also investing more in digital ads to reach customers who may be more likely to shop online. Retail media saw an increase in year-over-year advertising spending with a growth of 36[R6] % compared to 31% in the previous quarter. The trends, for paid search and paid social remained relatively stable compared to the quarter. As a result, the retail segment is expected to continue to be the largest revenue generator for the Digital Signage Software market.
Digital Signage Software Segmentation by Type
Content Management System
Edge Server Software
The content management systems segment is anticipated to hold the largest revenue by the end of 2036. This is because it allows organizations to easily update and share content with a large number of people, as well as track and analyze user engagement. WordPress is widely used, with 35% of websites on the internet being powered by this platform. It holds a market share of, around 63% in the world of content management systems (CMS). Additionally, the emergence of cloud-based content management systems is expected to be a major driver for this market, as it eliminates the need for hardware installation and provides more flexibility and scalability.
Request for Customization of this Report @ https://www.researchnester.com/customized-reports-4822
A few of the well-known industry leaders in digital signage software market that are profiled by Research Nester are LG DISPLAY CO., LTD, Broadsign International, Inc., Scala Omnivex Corporation, Mvix, Inc., Rise Vision, Inc., Barco., Siemens, Daktronics, BrightSign LLC, and other key market players.
Recent Development in the Digital Signage Software Market
LG Electronics has collaborated with VITEC a company specializing in video encoding and streaming technologies. This partnership enables LG webOS-powered smart sign displays to receive and showcase multicast MPEG video content for enterprise IPTV customers.
Scala unveiled the iteration of its leading digital signage platform Scala Enterprise Version 12.50. The updated release incorporates enhancements such as workgroup administration, snapshot features for Scala Media players, and more user-friendly collapsible menu panels, in content managers.
About Research Nester
Research Nester is a one-stop service provider with a client base in more than 50 countries, leading in strategic market research and consulting with an unbiased and unparalleled approach towards helping global industrial players, conglomerates and executives for their future investment while avoiding forthcoming uncertainties. With an out-of-the-box mindset to produce statistical and analytical market research reports, we provide strategic consulting so that our clients can make wise business decisions with clarity while strategizing and planning for their forthcoming needs and succeed in achieving their future endeavors. We believe every business can expand to its new horizon, provided a right guidance at a right time is available through strategic minds.
CONTACT: AJ Daniel Corporate Sales, USA Research Nester Email: info@researchnester.com USA Phone: +1 646 586 9123 Europe Phone: +44 203 608 5919  

Disclaimer: The above press release comes to you under an arrangement with GlobeNewswire. Mango Bunch takes no editorial responsibility for the same.